I-HOPE Indiana Health Equity Call to Action
Date: Wednesday, June 29 2022, 8:00 AM
Location: Forum Events Center, 11313 USA Pkwy, Fishers Indiana
---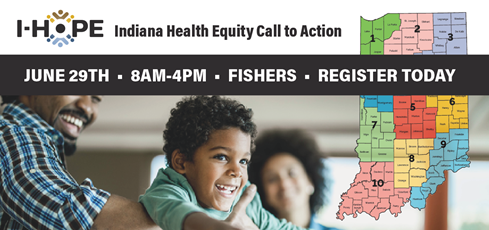 Purdue University will convene an I-HOPE Indiana Health Equity Call-to-Action event on Wednesday, June 29, 2022, bringing together statewide leaders from organizations, coalitions, hospitals, state and local governments, and local health departments to address health equity and healthcare access throughout the state.
What to expect
Following an earlier strategy session at the Indiana Department of Health's Office of Minority Health that sought to identify factors and issues in Indiana that cause and affect racial/ethnic health disparities, the June 29th Indiana Healthy Opportunities for People Everywhere (I-HOPE) event seeks to identify and address barriers to healthcare services throughout the state. Participants will collaborate to select a health equity-related issue or gap to be prioritized for improvement by all of Indiana's 10 Public Health Preparedness Districts over the next two years. The event will include informational presentations in the morning and Purdue-facilitated strategy development in the afternoon.
Who will be there
Organizations represented at this event include, but are not limited to, the Indiana Department of Health and local health departments, the Indiana Family and Social Services Administration, the Indiana Minority Health Coalition, the Indiana Black Caucus, the Latino Health Organization, IU School of Public Health, Purdue Healthcare Advisors, Marion County Public Health Department, the National Alliance on Mental Illness, the Indiana Native American Indian Affairs Commission, Indiana Community Health Workers Association, diversity and inclusion officers from Indiana hospitals, state representatives, and many more.
---
WHAT  I-HOPE Indiana Health Equity Call to Action
WHEN  Wednesday, June 29, 2022, from 8 p.m.-4 p.m. (light breakfast and networking from 8-8:30 a.m.)
WHERE  Forum Events Center, 11313 USA Pkwy, Fishers, Indiana 46037
FOOD  A light breakfast and lunch will be provided.
Event registration is invite only.